News
Costessey Park Summer Ball
On Saturday 20th July we are hosting a Costessey Park Summer Ball.
Tickets are £35 per person and include a 2 course meal & entertainment from the popular Norfolk band, Night Train.
Please click on the attachment below for more information.
To reserve your ticket please call (01603) 746333 or email us enquiry@costesseypark.com
Cullington Cup 2018
Hosted by Swaffham Golf Club this match was the culmination of a hard-fought season and saw Costessey Park take on King's Lynn for the Championship. In the morning games Costessey Park raced to an early lead and by lunch time enjoyed a 7 hole margin. King's Lynn were clearly inspired by the lunch and overcame the deficit and were enjoying a great resurgence, taking the lead. Back came Costessey Park and the match by the end of the afternoon round finished all square on the day. A play-off was the order of the day with both teams choosing their best pairings to go off for a sudden death playoff. A tense affair with no quarter asked or given. The game and the match was decided on the first extra hole with Costessey Park taking the Cullington 2018. Congratulations to all of the players and spectators throughout the competition.
Barnard Trophy 2018
On Wednesday 29th August our Seniors played the Barnard Trophy final against Fakenham at Royal Norwich Golf Club. Costessey started quickly and after the groups had finished the 9th hole the team were 7up. In control of the match, Costessey battled against tough opposition on the back 9 to extend their lead to win by 11 holes. An excellent victory which marked the second time that Costessey Park has won the Barnard Trophy. Congratulations to everyone involved and thank you to all of the supporters throughout the competition.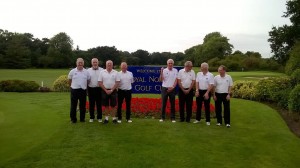 Captain's Charity Salvers
Our Captain's Charity Salvers competition was played on Saturday 9th June. 37 pairs took part in this Greensomes Stableford competition.
There was some excellent scoring with 6 pairs scoring at least 40 points. The winning pair for 2018 were Sean and Ian Rafferty with 43 points.
Over £1000 was raised for the Captain's charity – Norfolk SEN Network.
A special thanks to Club Captain, Tony D'eath for organising the day, as well as all of the sponsors of the event.
Norfolk Order of Merit
Costessey Park Golf Club hosted the first county order of merit event on Sunday 15th April.
58 players from around the county competed, including a number of regulars in the county teams. Fog delayed play for an hour and a half but once play begun there was some excellent golf on display.
Jack Cullington took the gross prize with an impressive 2 under par 69; the only score under par on the day. Charlie Woodward had the best nett score on the day with a 65, 6 under his handicap. The best performances by Costessey Park players were Dylan Green with a gross 72 and Sean Rafferty with a nett 68.
Thank you to all who took part on the day and we look forward to welcoming you back to Costessey Park in the future.
Captain's Drive In 2018
Costessey Park Golf Club held the annual Captains' Drive In on Saturday 14th April. This marked the first official competition of the year and the beginning of the season for this year's captains.
The course was presented beautifully despite the torrential rain in the previous weeks, and this was reflected by some excellent scoring.
Gary Ives took 1st place for the Men scoring an impressive 45 stableford points. Even with such a good score Gary's winning margin was narrow with 3 players scoring 44 points.
The Ladies competition was won by Sue Boast with 35 points. Sue finished 5 points clear of 2nd place.
The leading junior on the day was Sean Rafferty, 44 points on the day helped Sean reduce his handicap from 15 to 14. Although this reduced again to 13 on the following day thanks to a Nett 68 in the Norfolk Order of Merit event at Costessey Park Golf Club!
A superb £1800 was raised on then day for the captain's charity, Norfolk SEN Network. This was made up from entry fees and an auction following play. Norfolk SEN Network has been supporting parents of children who have special educational needs for over 25 years.
We wish the best of luck to Tony D'eath, who takes over as Club Captain for this year.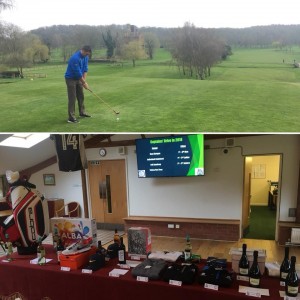 Easter Sunday
Please see our Easter Sunday menu below. Call us on 01603 746333 to book now.
Easter Sunday 2018
23/07/17 Myhill Trophy
Congratulations to the team who had an excellent victory against a strong Royal Cromer team. Our team now play Feltwell Golf Club at Dunston Hall in the semi-final.
22 & 23/07/17 Ladies Club Championship
Congratulations to Claire Anderson (Scratch) and Sue Sides (Handicap) who won through the two-day event, repeating their 2016 performance.
21/07/17 Seniors' Club Championship
With an outstanding performance, Martyn Beck won both the Scratch and the Handicap titles. Congratulations go to Martyn.
15/07/17 Club Championship
Congratulations to Aiden Tanner, who became the Scratch Club Champion, finishing 3 shots ahead of Paul Hunter, who was 2 ahead of third placed Kevin Webb.
Ben Waterman is to be congratulated on becoming Handicap Champion with a net 129. Ben finished 5 ahead of Sean Rafferty, who was just 1 ahead of Jack Woodhouse in third place. It's worth noting that the combined ages of these 3 handicap players doesn't make a senior!
16/10/16 Greenkeepers Revenge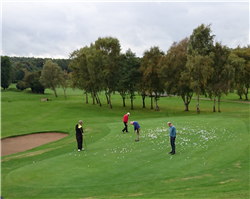 The boys most certainly had their revenge on Sunday. Well done to Gavin Pauling who clearly didn't let any of the obstacles get in his way.
15/10/16 Quiz night are back
With the nights drawing in we welcome back Quiz nights. The fist quiz night of this season was held Saturday Night. Some brilliant scores and well done to Simple Minds plus The Hills on the first victory of the season.
14/10/16 Fancy Dress at Costessey
We were treated to some fantastic fancy dress costumes on Friday night. The guests attending the British Legion Party certainly went all out.
29.09.16 Senior Ladies Club Championships
Today we had the Ladies Senior Championship at Costessey Park. Played on a lovely September afternoon, you could not wish for better weather. The 2 defending champions from 2015 were unable to play this year due to health and other reasons, so we were always going to have 2 new champions.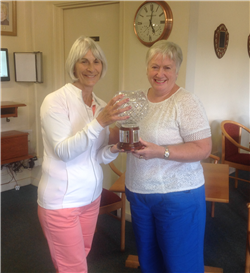 The Gross Senior Ladies Champion this year is Sue Boast with a superb 88.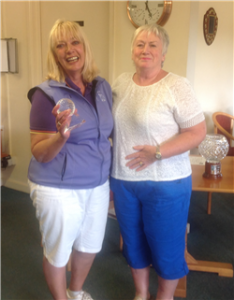 The Net Senior Ladies Champion is Pat Hagan with a net 73.
Many congratulations to you both.
Christine Green presented both trophies to the winners, this year as she is still recovering from a hip replacement. No doubt Christine will be back next year fighting fit, looking to regain the trophy.
27.09.16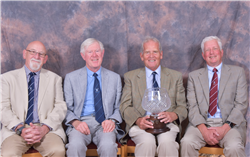 The Ambassadors Trophy was played this week at Costessey Park. We welcomed teams of senior golfers from around Norfolk to compete. Diss won the Trophy with a great score of 112 points. Rookery Park came second 2nd, missing out by just one point with 111 points and Costessey Park finished in 3rd place with 109 points.
26.09.16
Ladies Results Update
Well done Team Tessey for winning the Scratch League Division 4. What a great win champions.
Watson Trophy winner Sue House.
Ladies Club Champion 2017 Clare Anderson.
Ladies Trelar Trophy winner Sue Sides.
Granma's Rose Bowl winner was Maureen Burne also with a handicap cup.
Auntie's Rose Bowl winner Debbie Darling.
Ladies Summer Singles Knock Out winner Sue Boast.
Ladies Doubles Knock Out winners Liz Vaughan and Sue Sides.
Mixed Doubles Knock Out champions this year again Debbie & George Darling.
Well done to all our winners.
12/08/16
Karen Bugg and Sue Fage represented the club in the regional final of the Peugeot Coronation Foursomes at the beautiful Wellingborough Golf Club on Wednesday this week.
After a nervy start both ladies settled into their game, to finish in the middle of a large field with 28 points. The winning pair scored 37 points, again showing how difficult the course played. If only a few of those putts had dropped!
Both ladies had a really lovely day and really enjoyed the experience and this delightful long course.
12/08/16 England Golf Medal Final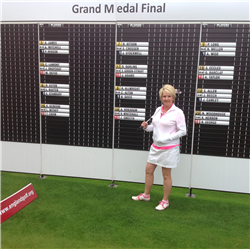 Debbie  Darling from Costessey Park represented the club at the England Golf Grand Medal Final yesterday at Frilford Heath. This is a major event in the calendar of England Golf and it is a first for the club.
Debbie was one of only 3 ladies from Norfolk to reach the final which in itself was a fantastic achievement. Debbie acquitted herself well, on this difficult championship course. She got off to a flying start playing within her handicap through the first 7 holes, and managed to finish well, after a difficult middle section, finishing 38th in a field of 60 top golfers.
The scores on the day reflect the difficulty with a three way tie at the top at level par.
What a fantastic experience, well done Debbie we are all proud of you.
2/8/16 Ladies Invitational
Costessey Park Ladies held Invitation Day last week, with all 40 players having a fabulous day. The weather was very kind, with some great golf being played on a fantastically well presented course. The golf was followed by a really superb meal cook by our chef Gary.
The scores were reflective of the conditions with 9 teams scoring 40 points or better in a Four Ball Better Ball competition.
The results were:-
1st Christine Frazer from Bawburgh Golf Club and Sue Fage 51 points
2nd Anne Sibley also from Bawburgh Golf Club and Jill Daly 44 points
3rd Val Chapman from Weston Park Golf Club and Annette Hardy 43 points
Nearest the Pins
2nd Anne Sibley and Jill Daly
5th Gail Barrett and Helen Beck
11th Maureen Burne and Sue Edwards
14th Helen Burrage and Diane Myton
Nearest the river on the 9th with a really rubbish shot was Jane Wheeler and her partner Sue Sides does not want anything to do with it.
31/7/2016
We had lovely weather today for the second round of the Ladies Club Championship. The leaders only holding a slight advantage after the first round, were Clare Anderson and Sue Sides in the handicap. Could they both hold on?
The answer was yes. Clare Anderson is our Ladies Club Champion for 2016 winning by 7 shots. Sue also won the handicap Trelar Trophy with a net 145, but was pushed all the way by Pat Hagan who finished runner up 1 shot back .
Well done Clare and Sue
30/7/2016
Congratulations to Dylan Green who won the Club Championship with a gross score of 145.
Also well done to Louis Pauling who won the Handicap Championship with a magnificent net score of 60 in the morning and a combined score of 135.
Winner of the afternoon plate was Paul Killingback with a net score of 70.
Well done to everyone; there were some great scores, which will result in some handicap cuts!
29/7/16
Congratulations to Peter Staniland who got his first ever hole in one on Friday on our 2nd hole. Well done.
25/7/16
Commiserations to Myhill and Cullington teams. Myhill lost 8 down at Feltwell and Cullington lost 9 down at Royal Norwich. Onward and upward and now time to concentrate on Club Championships.
23/7/16 Another Hole in One
Congratulations to Mr G Flores, Costessey park member, who made a wonderful hole in one today on the 5th hole. A 9 iron was the chosen club for the new par 3. It pitched just short of the green and rolled all the way in. Well done.
22/7/16
A Big weekend for Costessey Park Men's teams this weekend;
We have the scratch league on Saturday 23rdJuly, 9am at home against Kings Lynn 2.
Sunday 24th July, we have Myhill away at Feltwell, 9am start with the Cullington away at Royal Norwich, also at 9am
Finally we have our HCP League away at Wensum Valleyalso on Sunday at 9am.
All our supporters will be most welcome.
Good luck to all our teams
3/7/2016 Daily Mail Foursomes
Clare and Liz represented Costessey Park in the 5th round of the Daily Mail Foursomes on Sunday, playing away at Thetford Golf Club. Unfortunately their fantastic run in this event has come to an end, losing to a very good pair from Thetford.
The girls played extremely well in this competition and it was a great achievement getting all the way through to the 5th round, which is the furthest that any pair from Costessey Park has ever achieved in the Ladies Section.
Really well done Clare and Liz we are proud of you both.
29/06/16 Lady Captains Day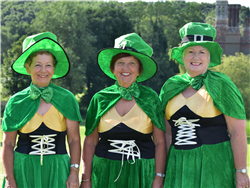 The ladies at Costessey Park all dressed up as leprechauns and in Ireland's colours to surprise Lady Captain Sue on Tuesday. Sue said " I was completely overwhelmed by the fantastic costumes (some home made), and that so many ladies had Green, White and Gold golf accessories " A fabulous day was had by all, where the long lens of John Allen camera captured some of the action and was shown on video in Jerninghams before everyone enjoyed a lovely lunch washed down by a little wine!
There were plenty of winners on the day with some great scoring
The Blind Putting was won by Maureen Batchelor, Sue House and Val Miller with a great score of 15 putts over 6 holes. Now what does that tell you ladies?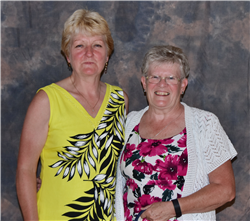 The Individual Stableford was won by Diane Myton with a great score of 39 points.
2nd with 35 points was Sue Soar and 3rd on count back was Pat Hagan.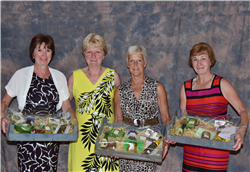 There was also a team event called a triangle which was won with 76 points by Sue Sides, Dawn Pearce and Maureen Burne closely followed with 75 points by Helen Carr, Liz Vaughan and Jill Daly.
A big thank you to all the ladies for supporting on this day, it was truly wonderful.
25/06/16
Team Tessey won again in Division 2 today winning 4.5 to 2.5 against Ryston Park.
Well done girls a great performance we are on a winning run, need one more win to be safe. Sound like a Canary supporter now so I will go now.
19/6/16 MYHILL AND CULLINGTON
After a great performance today against Sheringham Golf Club, our Myhill team enjoyed a comfortable win. Congratulations to all members of the squad.
Our Cullington Team travelled to Kings Lynn Golf Club where they put in an outstanding performance to win through to the next round.
Congratulations to Club Captain, Paul Hendrey and Vice Captain, Carl Bream who take their teams through to the next round in July.
While Paul was busy playing for the Cullington Team today, John Watson did a first-class job standing-in as Myhill Captain.
18/6/16 Hole in 1!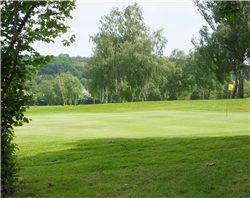 Congratulations to Daniel White, 26, from Norwich, made a great hole in one on the 11th hole on Thursday. Daniel was visiting Costessey with a group of golfers. This is the first hole in one on the new 11th hole.
15/6/16 Cullington Cup
Venue –Kings Lynn Golf Club
Date 19th June
Dear Members
Well it is that time again, second round of the Cullington cup is upon us.
We have a strong and experienced team to continue in our bid to regain the title , and with our overwhelming win in the first round, I feel confident we can pull another win out of the bag.
All we need to make a perfect winning day would be the continued support of our members.
So I invite you to attend on Sunday to cheer the boys onto another win .
MORNING ROUND— FIRST TEE -9AM
AFTERNOON ROUND –FIRST TEE 2PM
COULD I ASK ANOTHER FAVOUR ,WE NEED BALL SPOTTERS FOR EACH PAIRING TO WALK ROUND
REGARDS
CARL
13/6/16 Gillieson Cup.
Costessey Park Ladies played at Royal Cromer today in the Gillieson Cup. Team Tessey put up a great fight against some of the best Ladies in the County, but unfortunately lost 2-1. The team of Liz and Clare, Debbie and Jill and Pat and Sue B all played very well, the weather did not behave which made conditions difficult. Thank you to all the caddies and supporters who done there best to urge the girls on.
We will have to concentrate now on cracking the new course at Costessey.
11/6/16 Men's Costessey Cup
Today we welcome Captains, Vice Captains and Past Captains from Norfolk clubs to compete in the Costessey Cup. Good luck to all competing for the Costessey cup and the Larry Rowe trophy.
11/6/16
Good luck to Team Tessey in the 2nd round of the Gillieson at Royal Cromer. Fingers crossed the weather will stay good. Early to bed tonight and no Wine!!!
10/06/16
Well done to Costessey Ladies team Tessey, who won again in League Division 2 beating Sheringham at home 4-3. Great confidence builder for Sunday.
4/6/16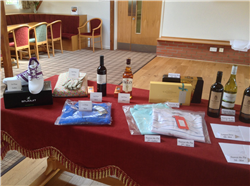 Costessey Park held the Captain's Charity Salver on Saturday with 82 people playing for the 1st major trophy of the season.
The winners on the day were Kevin & Kieran Chapman with a combined stableford score of 74, closely followed by Kevin Webb and Warren Blackwell with 73 points. 3rd place was husband and wife team Diane and Ralph Myton with another father and son pairing coming in 4th Ian and Sean Rafferty.
The day was sponsored by several club members and a total of £1333.01 was raised for the 2 nominated charities The Nook East Anglia's Children's Hospices and Norfolk Age UK.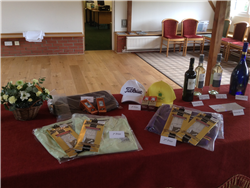 There were individual stableford prizes and several spot prizes on the day too which amounted to a large prize table. An auction which was conducted by David Barnes raised over £400. One of the items was an autobiography signed by a Norwich City Star, whose name was not revealed. The purchaser was horrified when all was revealed to find Chris Sutton wearing Celtic shirt!
Two fun competitions a 100ft put downhill putt in honour of Sir Terry and a chipping into the net were won by Bernie Vaughan and Chris Allen.
A great day was had by all.
Paul and Sue would express their sincere thank you to all who attended and sponsors on the day.
30/05/16 Carrick Cup
Liz Vaughan and Clare Anderson played against Bawburgh today in this County Foursome Knock Out off scratch, and lost 4 & 3. They played extremely well to take their opposition to the 16th hole as they were losing 16 shots to a very good pair from Bawburgh.
29/05/16 How many balls were in the box
Guess the number of golf balls in the box and win a Round of Golf at Dunston Hall for 4 people was won by our Senior Captains Ralph Myton with an exact guess of 465 balls. The guesses ranged from 10 to 1448 and everyone had fun trying to work out mathematically the exact number. The amount raised for the Captain's Charities was an amazing £136. Thank you everyone for your support.
29/05/16 Grand Opening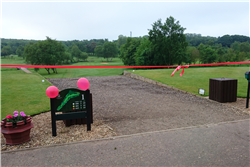 The ribbon has been cut and the Grand Opening Competition is under way. good luck to all the members taking part. Can't wait to see how everyone gets on.
28/05/16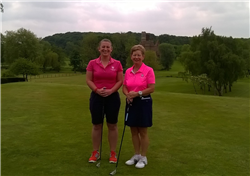 Liz and Clare had a fabulous win today in the 4th round of the Daily Mail Foursomes. They played lovely golf to beat Sheringham on the 17th hole to progress to the next round which will probably be out of the county.
Well done girls, team Costessey rule again.
28/05/16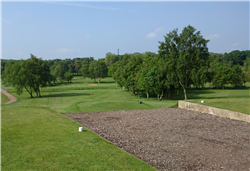 Today is the last competition on the old course. Tomorrow is the grand opening of three new holes and an alteration of layout here at Costessey.
We are all looking forward to seeing the new course in action and more importantly who will be the holder of the new course record after tomorrows comp.
24/5/16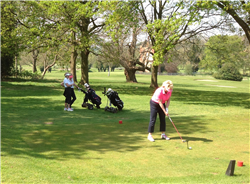 Great performance by Debbie Darling playing 1 below her handicap at Thetford Golf Club to qualify for the National Final of the Annual Medal Winners at Frilford Heath in Oxfordshire in August.
The top ten players from the Regional event qualified, and this is the first time Costessey Park will be represented at this national final.
Well done Debbie fantastic performance.
22/05/16 Coronation Salvers 2016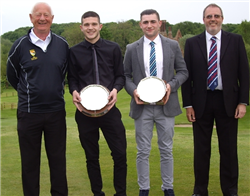 Congratulations to Aiden Tanner and Mac Gee for a great result on Sunday. They managed to hold onto the victory with 37 points and win on countback. 96 players took part and what a great day we all had. Great to see so many players supporting the Norfolk County Golf Union.
14/05/16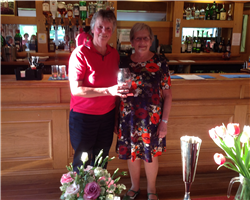 We hosted the Costessey Cup and Jerninghams Trophy for ladies from all over Norfolk on Thursday in glorious weather. Lady Captains, Vice Captains and Immediate past Captains from 15 Norfolk clubs played for the Costessey Cup. Past Captains of Costessey and guests played for the Jerninghams Trophy.
Liz Hewett from The Links won the Jerninghams Trophy, with Jill Daly from Costessey coming in second.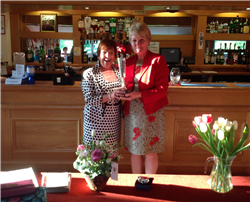 The Costessey Cup was won by Lady Captain Sue Fage. First winner from Costessey Park since 2005, with the runner up Anita Coteman from Sprowston Manor on count back from Caroline Richardson from Hunstaton.
All the ladies from around the County had a lovely relaxing round of golf followed by an excellent meal and washed down with a glass or two.
12/05/16 Costessey Cup 2016
Costessey Park would like to welcome all the Ladies home and away competing in today's Ladies Costessey cup. The course looks amazing and the sun is shining. Good Luck